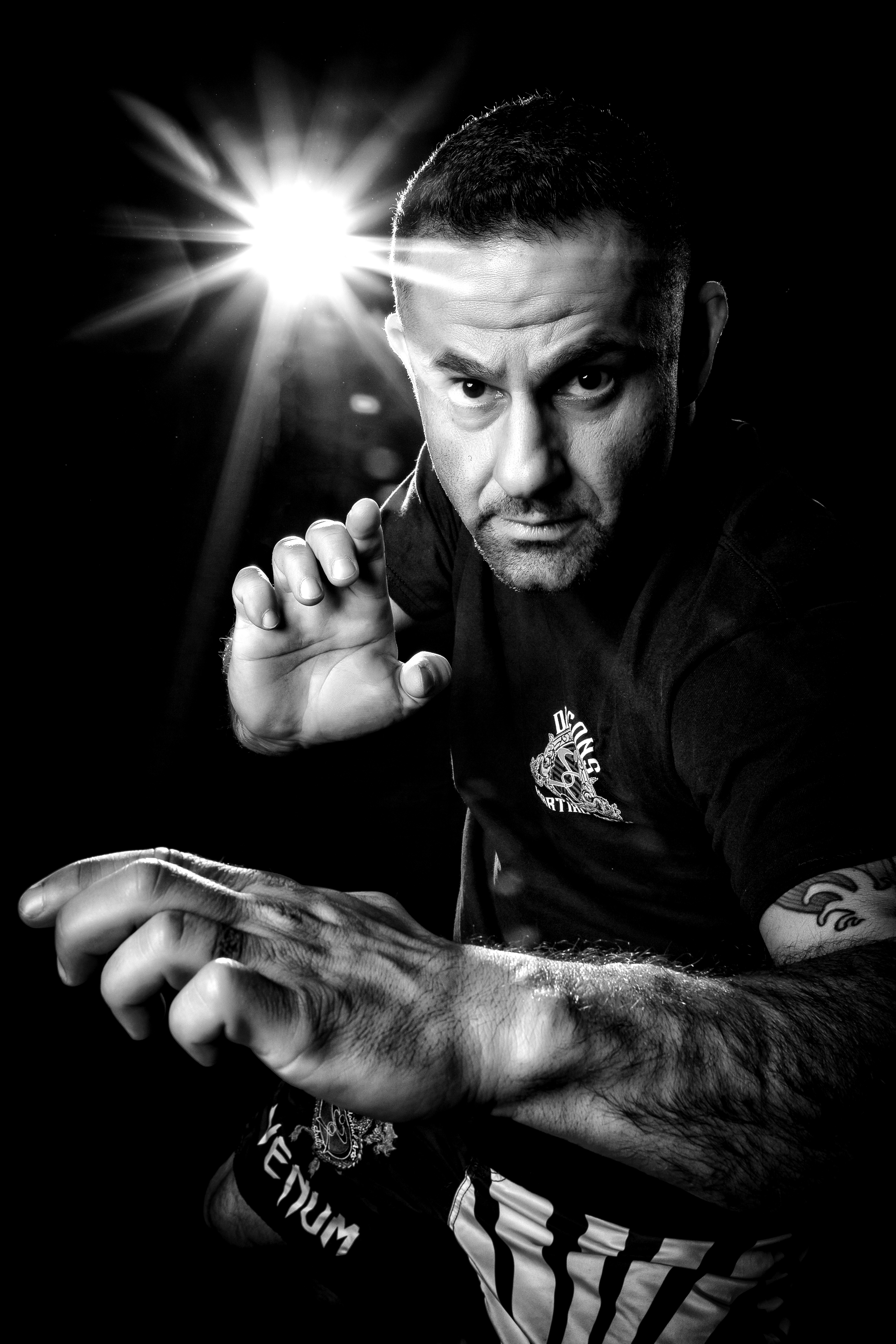 Mr. Shervin Ilbeig is a 5th Degree Hapkido Black Belt, Jean Jacques Machado BJJ Blue Belt, and a Master Level Atillo Balintawak Martial Artist. He has been practicing and teaching martial arts professionally for the last 30 years, and this lifelong love dates back to the early age of three. Mr. Shervin derives his greatest inspiration from Bruce Lee, whose energy and love for martial arts continue to fuel his passion even today. He embarked on this journey at the age of 14 from a Kung Fu Studio in Santa Monica and followed his passion for a year before he had to move to San Fernando Valley alongside his family. Mr. Shervin was introduced to the art of Hapkido at Team Karate Centers in the year 1991, and he went on to achieve his First Degree Black Belt in 1994.
Learning martial arts has been an incredibly spiritual experience for Mr. Shervin from the very first day. Mr. Fariborz Azhakh is one of the many instructors and mentors who helped him unveil not only the secrets of combat art but also the mysteries of life. These moments of inspiration and life-altering experiences inspired Mr. Shervin to follow the footsteps of his sensei and lay the foundation of Little Dragons Karate in the year 2004. He did complete his Bachelor's Degree in Information Technology from the University of Phoenix in 2002, yet the love for martial arts was too deep to derail him from his tracks. Mr. Shervin's Little Dragon Karate School started with 23 students though the number tripled in the course of the first 12 months. His unprecedented love for the martial arts and passion for inspiring a positive change in the lives of young children has always encouraged him to serve the community in extraordinary ways. 
Today, Mr. Shervin serves as a teacher to over 200 active students and is renowned for his highly personalized approach to martial arts. He treats every student with a unique approach best suited to their exclusive level of learning. This has helped Mr. Shervin connect and inspire many martial art devotees over the last three decades. He is a kind and warm-hearted teacher who aspires to deliver the same profound experience to his apprentices that he received from his mentors and sensei. Mr. Shervin is an avid seeker of knowledge who continues to strive for excellence in his art and aims to dive deeper and deeper into the realm of martial arts under the teaching and guidance of world-class Masters and Grand Masters. 
In these challenging times of pandemic, Mr. Shervin continues to train and empower young martial artists through Dragon Martial Arts Studio and www.shervin.teachable.com. He is driven by the desire to unchain the hidden dragon from young martial art devotees and aspires to transfer his years of knowledge and experiences to the generations of today and tomorrow. Besides this, Mr. Shervin is a fan of mountain biking and truly loves the outdoors. He is a loving husband to wife Clelia and a devoted father to three kids Alexa, Savana, and Kian.